Site Preparation:
The heart of all construction phases

Author: Tobias Scharpenberg
Digital technology has a massive impact on every aspect of our lives. As the heavy construction industry is moving towards autonomy, contractors, operators and all other stakeholders of a construction project become pioneers of the digital frontier.
Smart Digital Realities, the convergence of the physical and digital world, enable real-time access to data from the jobsite with a significant impact on all phases of construction. By adopting Advanced Digital Construction Management (ADCM) processes, technology can help minimise the number of risks throughout the construction phases and meet the challenges facing the industry. Even if no two projects are the same, there are certain aspects reoccurring in every project. In the following, we give an overview of the different phases, reoccurring challenges and why site preparation is the heart of all construction phases.
The life of a construction project
Every stage in a heavy construction project is made up of multiple tasks, teams, tools and technologies to get the job done. Contractors need to align service providers, deadlines and resources to deliver their projects with efficiency, precision, safety, and profit. Or in other words: contractors are ordinary people doing extraordinary things.
Each phase comes with the need of making decisions involving time, quality and budget. Choosing the right resources is important and the solutions need to be easy to use, easy to adopt and easy to deploy on the jobsite. Having a comprehensive overview of all phases, supporting technology and digital workflows is key to the success of modern construction projects.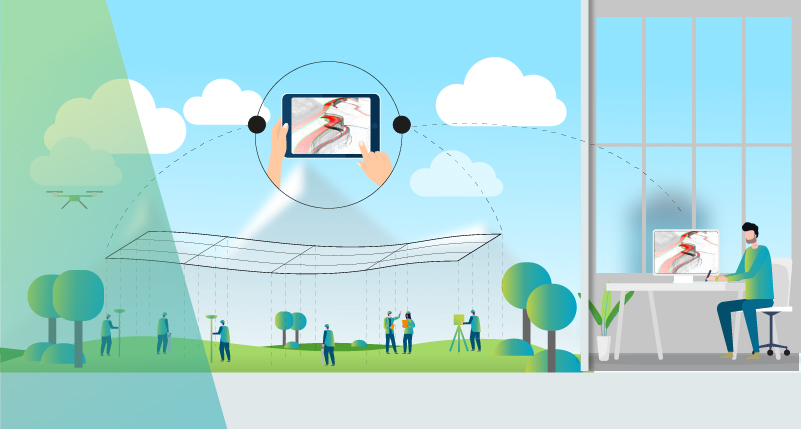 1. Design & Capture

Pre-construction deliverables have a strong impact on costs, time, and complexity of the downstream construction activities. To create a plan and detailed scope of work, first the current site conditions need to be determined for future above-ground and in-ground infrastructure. The activities and decisions made in the first phase, will determine the success and feasibility of the forthcoming construction project and influence its entire life cycle. That means, the accurate positioning and measurement of surfaces, spaces and sites starts early and often throughout the life of a site and beyond. The right distances and volumes are essential information in any successful construction project and remain a reoccurring subject throughout all phases.
Construction Positioning solutions are essential to provide precise and accurate measurements and surveys. Depending on the type and scope of the project this includes: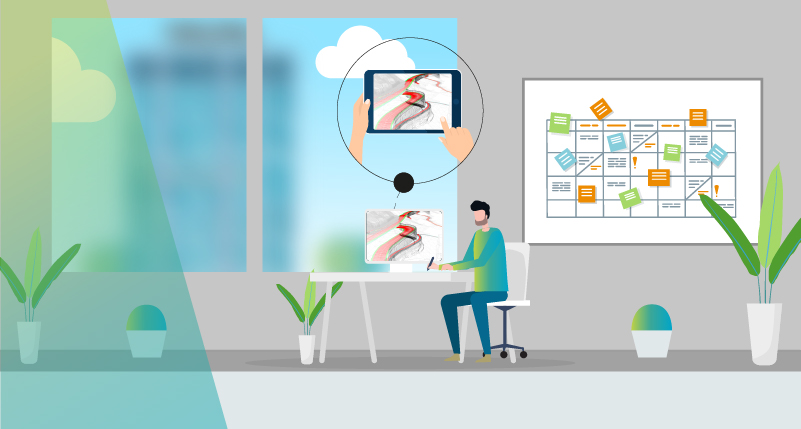 2. Estimate & Plan

Estimating the work to be done is critical for planning the budgets, resources, time and people required. Construction Management solutions help contractors win more work and complete that work on time, on budget, and on specifications. From pre-bid walkthroughs through project completion, intuitive software solutions help to submit professional bids and turn plans into action in the field to ensure materials will be moved at the right time, at the right place in the right amounts.
Construction data comes from many different sources, but with the right construction management solution, it is possible to maintain control over all aspects of the construction project. It helps create fast and accurate quantity takeoffs from PDF, CAD and drones to validate and track progress and create machine control models for all manufacturers with speed and simplicity. An integrated solution also helps to complete takeoffs faster by ensuring that no data is entered twice.
The best solutions support contractors throughout the whole project – connecting the entire construction process from bidding to validating existing conditions in the field to closeout.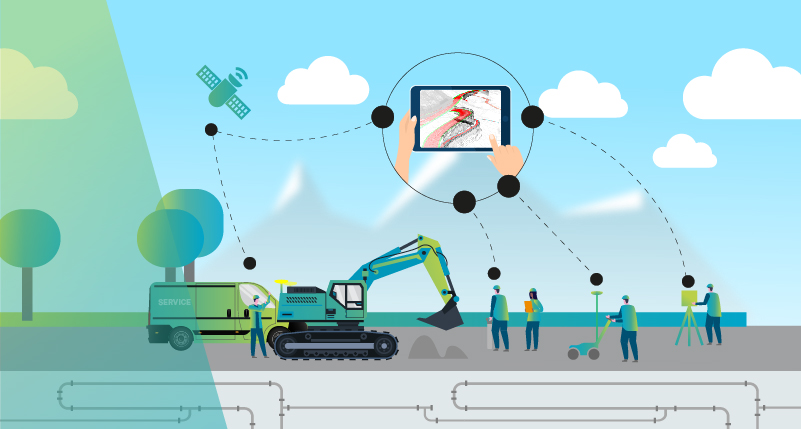 3. Mobilise & Prepare

Everything that happens in the first two phases is part of the preparation, but winning the bid is the real starting point of the project. At this point, it takes remarkable skill as multiple areas need to be evaluated, prepared, and mobilised at the same time. The mobilisation of the resources and the preparation of the site are key for any successful construction project. The effective preparation of people, products and precious resources ensures that everything and everyone come together as a team.
The process is unique to each project and application, and as such, the necessary steps, equipment, and digital solutions will vary. The degree to which a project fails or succeeds strongly correlates with the degree a company performs at the following eight elements, as they are potential profit breakers or profit makers in every construction project. Using a personalised project planner that focuses on these key aspects helps to master the mobilisation and preparation of each project.
1. Construction Design
2. Revisions and Change Requests
3. Back up (IT, data, technical components)
4. Construction Terrain
5. Construction Resources
6. Data Management
7. As-Built Information
8. Team Preparation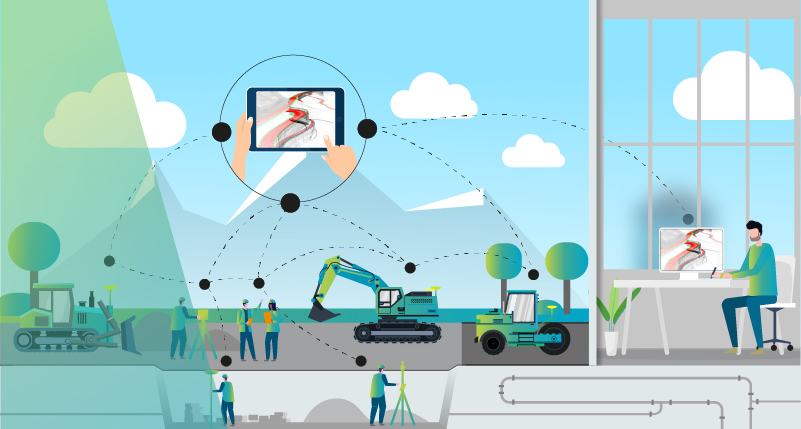 4. Construct & Build

When all precautions are made it is time to bring the plan to life. From now on it is all about achieving high quality while saving time and costs by getting the job done fast, efficient and right the first time. At this stage, the entire workforce will interact with and through technology.

While the construction industry is undergoing a digital revolution, new approaches are improving traditional tools and processes. With this comes the opportunity for contractors to leverage digital solutions, including machine control and cloud-based collaboration tools, to elevate their work to deliver projects on time, to specification, within budget, safely and sustainably.
The most significant effect of improving construction processes and streamlining communication is using system solutions connecting the entire jobsite within one ecosystem. From Construction Systems that connect on-machine, off-machine and office applications via cloud connectivity to Construction Autonomy solutions that increase productivity by minimising downtime and achieving the planned design with millimetre accuracy.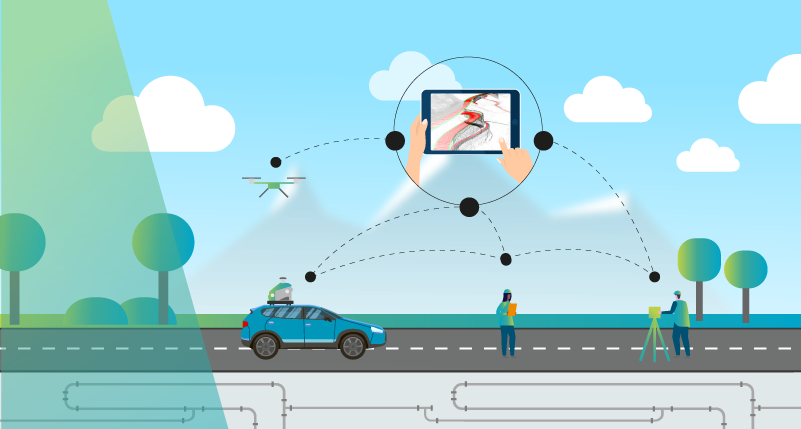 5. Operate & Maintain

Using digital solutions throughout all those phases helps to build structures that last longer. This doesn't stop when the construction is done. Monitoring infrastructures properly requires continuous reliable, real-time data that assesses if structures are performing safely and efficiently.

Long-term monitoring ensures the stability of existing structures by documenting the impacts of ageing, as well as the potential effects coming from nearby construction activity, seismic activity and other natural hazards. A proactive maintenance strategy with routine and preventive maintenance schedules will also help extend the lifespan of assets by ensuring servicing is done when due.

Most heavy construction projects use a variety of monitoring solutions such as total stations, GNSS, terrestrial laser scanning, mobile mapping or reality capture.
How to keep the heart pumping
Having a closer look into the phases, two things become clear. First, the phases are not clearly separated from each other. The same tasks and workflows may be repetitive and occur in different phases, and even the phases themselves may overlap. Secondly, site preparation and mobilisation is linked to all phases. Being well-prepared means managing data throughout a project, involving accurate positioning and measurement, as well as turning the data into comprehensive takeoffs to win bids in the first place.
Inaccurate or outdated data can lead to poor decision-making and planning, which in turn leads to resources not being available when needed, delays, and an increased need for contingency plans. Seizing opportunities to create efficiencies, identifying risks or issues prior to the deployment of resources and the ability to automate certain functions enables the streamlining of processes. Using the right technology and putting in the extra effort to evaluate, prepare and mobilise pays off by maximising the impact per unit of effort throughout the construction phase and will be consequently noticeable in the profit.
The reality is that just investing in the right technology is not the end of the line. Thinking from one project to the next can often end up in buying point solutions without sustainable progress of the business. Real added value is created when contractors decide to take the long run, engaging with a reliable technology partner. The right decision can limit the amount of extra effort required for any upcoming project. As a guide, the technology partner navigates through the digital jungle by supporting long-term decisions and building internal competencies. They help create repeatable processes that scale no matter the project and create an environment where the workforce gets empowered to grow and succeed in the face of challenging scenarios, becoming the best version of themselves.
One connected ecosystem
With all phases, workflows and modern technology in mind, it is essential to work with a connected, agnostic and user-friendly ecosystem – from field to office, involving all stakeholders. Offering a wide range of technologies and brands, Hexagon combines industry-leading construction solutions with one of the most comprehensive services and support networks in the world so that projects can be completed faster, simpler, safer and more sustainable. Committed to providing what is needed to succeed in today's business the portfolio enables contractors to remain in control of at every stage of the life cycle of a construction project.
What does one connected ecosystem look like?
At BAUMA 2022, Hexagon's Heavy Construction Solutions will bring a real construction site to the exhibition hall by showcasing a jobsite's digital twin as an augmented reality experience. Using the advanced camera, positioning and sensor technology from Hexagon, the AR experience combines the physical surroundings with computer-generated information of an Austrian construction site. Highlighting the Dirt.Simple portfolio, workflows and most critically, the people who do the work across all phases, visitors can explore how the connected ecosystem brings teams, processes, plans and machines together, helping them become pioneers of the digital frontier.